04.10.2022
One of the most laborious aspects of sustainable asset operations is compiling equipment information. At the same time, it is also one of the most important aspects.
Reliable item-level information about owned movable assets is the foundation of sustainable asset operations culture (AssetOps). That's why it's worth collecting equipment information carefully.
The good news is that gathering equipment information is most difficult in the beginning. When you have gotten up to speed with Trail Equipment Management System, adding new assets is much easier.
In order to lighten your burden of collecting the asset data, we decided to put together the following seven helpful tips. These tips will help you to significantly reduce your own workload when collecting the equipment information.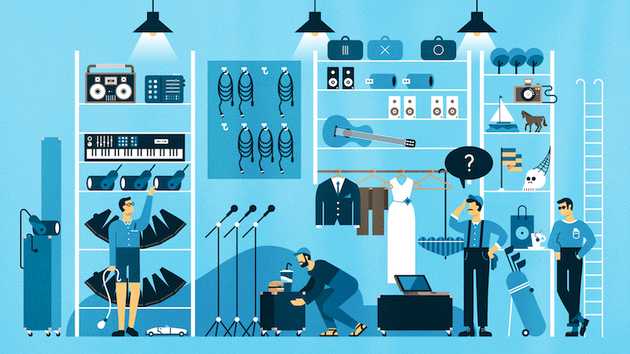 1. Utilize financial management systems and other sources
What other sources for equipment information there could be in addition to an equipment management system? One good source for the information is, of course, the financial administration and accounting systems. They should have information on the purchases.
So, it is worth considering whether your organization has other systems from which the equipment information could be collected. Even if they include only partial information, it could act as a good starting point and save a lot of time.
However, you need to ensure that the equipment information you receive is reliable. For example, financial management systems often have information about purchases, but no information about whether the purchased equipment is still in use or even exists.
Hence, we recommended to take relatively recent data from such a system. Data from the previous two or three years should be quite reliable.
2. Add items in bulk with the excel inventory sheet
Existing equipment is easiest to list first in Excel rather than add them one-by-one in Trail Equipment Management System. When you add information to Excel first, there is no need to add the items one-by one in Trail.
Trail's Excel inventory sheet allows mass importing the equipment information. It contains all the key data fields, which makes it quick to add device information. Trail's support team imports the data from Excel, thus saving you a lot of work.
You can download the inventory sheet here: Trail Excel Inventory Template
Our support advises gladly on filling out the export table. If any essential data fields are missing from the table, or you have any questions, please contact our support at support@trail.fi
3. Require your supplier to send the delivery lists in a readable format
One good way to reduce your work is to ask your equipment suppliers for help. Especially, if you order large quantities of equipment, you could request the delivery lists in Excel format. Excel lists can usually be imported with little effort to Trail Equipment Management System.
You could even request the supplier to provide the lists on Trail's Excel inventory sheet. When Helsinki Music Centre was opened in 2011, the staff did exactly this. As a result, the initial data was created in Trail with nearly zero effort.
4. Automate the item data creation
Trail can also automate the creation of items. By creating an integration with, for example, the financial management system, Trail could automatically fetch information about the acquired equipment and create the item cards for new equipment.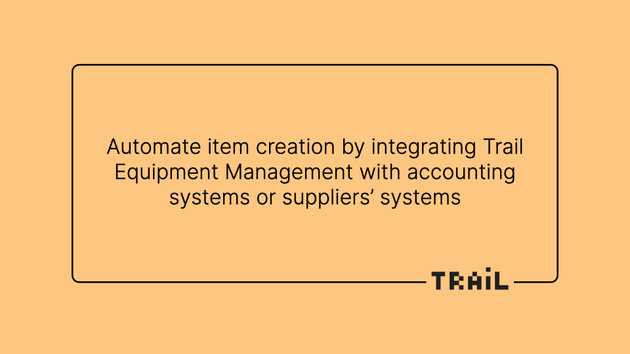 Automated workflows can also be created with the suppliers. If you constantly order equipment from the same supplier, it would be a good idea to create an automated process for the item creation. Trail could fetch the item information directly from the supplier and automatically create it in the system.
5. Clone identical devices
Trail enables cloning of device data. It helps to create several identical devices with identical data at once.
Cloning is an excellent feature when you have, for example, acquired multiple similar laptops, microphones, chairs or whatever. Once you've created the first one, you can easily create the rest as clones with a couple of clicks.
Cloning is limited to general information, and Trail does not clone, for example, a serial number or other identifying information.
6. Remember to crowdsource
Why would you work alone when you could work together with your colleagues? The culture of sustainable asset operations and especially the collection of equipment information should be spread as widely as possible in the organization. This is the only way to get the results you want to achieve with equipment management.
Thanks to Trail's Excel equipment inventory sheet, any employee can compile their own department's equipment information quite easily.
You can get your colleagues to help you with a few tricks:
Ask for help
Share the Trail excel inventory template
Tell the principles for collecting equipment information

How to name the equipment, what department to use, how precisely the location should be added, how to define categories, and what other mandatory information should be added

Remember to motivate your colleagues
You can motivate your colleagues, for example, by stressing the importance of reliable asset data. The better equipment data you have the fewer unnecessary purchases you will make and the more funds you will have available for the necessary purchases.
7. Use seasonal helpers and create new work
Luckily, you can instruct others to gather the equipment information quite easily. Seasonal helpers, summer workers or other temporary labor are a good help in collecting the asset data.
It is a perfect win-win situation when you hire, for example, young people to do inventory. As a result, you will be able to save resources and nature through sustainable asset operations. At the same time, you save your own time and provide young people with valuable work experience.
This is a real homerun from the point of view of corporate responsibility!
Summary
The culture of sustainable asset management is based on the life cycle management of movable assets on a single item level. When you know what you own, you can manage the equipment responsibly, reduce unnecessary purchases, and recycle the equipment efficiently.
In this way, you can create a completely new way for your organization to operate more sustainably and cost-effectively.
The collection of equipment information is an extremely important part of creating the culture of sustainable asset operations. It is most demanding in the beginning, becomes easier after the initial phase, but will continue as a part of your daily work in the future.
However, collecting the item data carefully ensures that you will get the most out of your equipment. With the tips mentioned above, you can significantly reduce your own work and make sure that your company's assets are managed sustainably.
If you have any questions regarding the automations or any other workflows, please do not hesitate to contact us