30.12.2022
Several of our customers own significant art collections. It is a very good idea to use Trail Equipment Management as a registry and management system for art as well. The same principles that are used in the management of machines, equipment and furniture can also be applied to the management of pieces of art.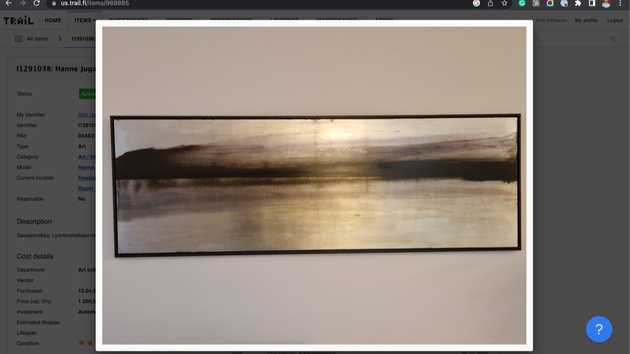 Why should you manage art with an equipment management system?
Art collections tie up a significant amount of money. At the same time, their management requires time and precision, especially when problems arise. By maintaining an up-to-date register, you can quickly find out, for example:
The total value of the art collection
Insurance values of individual works of art
Locations of the pieces
Times of purchases and sales with prices
Of course, an excel table is sufficient for listing basic information. But if you want to manage the entire life cycle of artworks and reduce the time you spend on maintaining the register and searching for information, you should definitely use an equipment management system.
With a proper asset management system, you can bring the tools of intelligent asset management into the management of art. These tools include, for example:
Reminders about restoration and renovation needs
Easy access to restoration history
Fast remote inventory based on subtle RFID tags
Especially in organisations that already use Trail Inventory Management, the artwork register should definitely be transferred to Trail. In this way, a complete picture of all valuable assets is obtained from one system.
How do you trail art in practice?
Before adding information about the artwork to Trail, ask Trail's technical support (support@trail.fi) to set up a new device type "Art" in your Trail. At the same time, tell us what kind of data fields you want to appear on the artwork pages (for example: dimensions, period, technique etc.)
Also ask your organisation's Trail Admin user to create a dedicated category for art. You can also create subcategories according to your needs.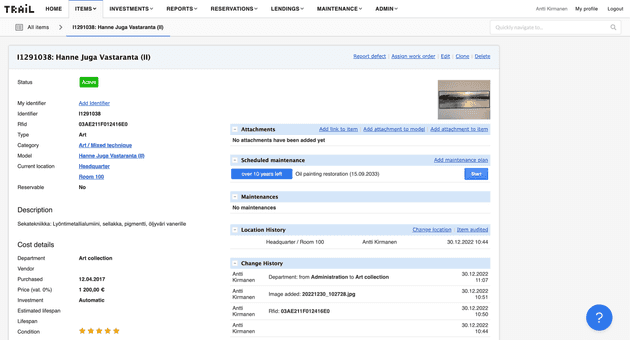 If the artworks are only allowed to be seen by certain users in Trail Equipment Management, the Admin user should create a separate department for the art.
You can import artwork data into Trail in bulk with Trail's excel inventory template or create them individually in the system.
Please also consider the following points when trailing works of art:
Write the artist's name in the 'Manufacturer' field and the name of the work in the 'Model' field.
The fields for the purchase price, vendor and year of completion are automatically found in Trail
You can attach the image to the artwork in Trail's browser application under 'Add attachment to model' link - In the mobile application you can add an image by opening the artwork page and taking a picture of the artwork
Labelling artworks with asset tags
Few people want to attach any kind of tags or stickers to artworks. At worst, they can damage the artwork. However, with scannable asset tags - such as RFID, NFC or QR code - it is possible to streamline your work and enhance the management of artwork.
Readable asset tags enable quick access to artwork information in the mobile application and allow reliable and fast inventories. When the works of art are marked with tags, it is also fast to log information about cleaning or restoration.
Due to the sensitivity of the works of art, you should choose carefully the asset tag to be used. One well-proven method is to use cable tie RFID tags. These available as near-readable and remote-readable tags. They can also be attached to the artwork without harming the materials.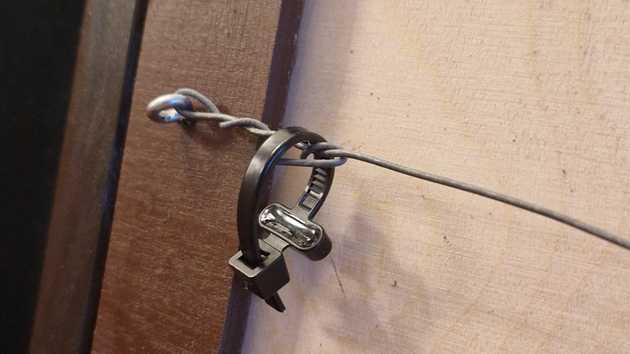 The advantage of remote-readable tags is that they can be inventoried with a suitable reader from a distance of up to 10 meters. This helps to cut the time used in making inventories of the artworks remarkably.
Management of inspections, cleanings and restorations
Recurring checks and maintenance plans have been Trail's basic functionality for years. They also improve significantly the management of the art collection.
Maintenance plans help ensure that cleanings and checks are done on time and not forgotten. Information about upcoming restorations and maintenance can be seen on the artwork's page in Trail. The page also compiles a log about the past restorations.
Since restorations and other maintenance are rarely done on works of art, advance notifications about them is a significant help. We wrote about them in more detail in this blog post: Advance notification of upcoming maintenance
Instructions for creating maintenance plans can be found in our user manual: Maintenance planning
Summary
Compiling the art collection's information in an electronic register is definitely worth the effort. Trail Equipment Management offers an excellent tool for this.
Trail is designed as a tool for sustainable asset management culture. As a result, it also offers useful tools for managing works of art thus reducing your workload and providing fast access to information.
We are happy to help you get started with trailing your art collection, so please contact us if you got interested!