21.02.2022
Digital twin in equipment management – a simple way to create digital twins for any kind of equipment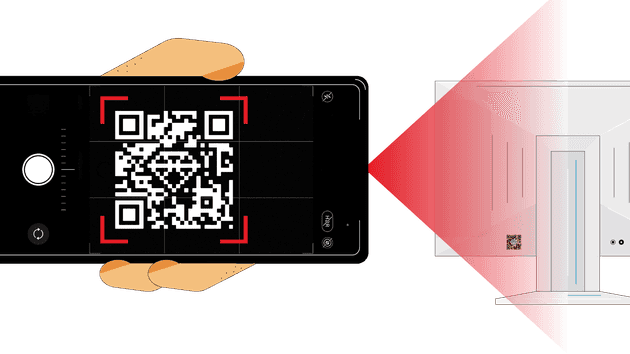 Digital twin is a virtual real-time image of a physical object or a process. Since the concept was first introduced in the 1990's it has gained a lot of attention. Especially manufacturing industry has used digital twins to help engineers design, maintain and develop better products and processes.
Since the world is getting increasingly digital and connected, also the concept of digital twin is expanding to new areas. With current systems available, you can create a digital twin for basically any item. And quite frankly, you should do it.
Digital twin for all kinds of assets
Only with reliable data you can make good decisions and make sound plans for the future. The core idea of a digital twin is to provide you with real-time information that you would not have otherwise.
In larger and more complex assets, such as wind turbines, jet engines and space rockets, the digital twin might draw data from multiple sensors that are inserted in the asset. These sensors gather information about multiple different variables, such as temperature, location, humidity, tremble etc.
Smaller and simpler assets' digital twin can be based on a very simple asset tag that links the item with its digital counterpart. The tag is meant for logging actions and item information manually. This allows creating a digital footprint with very low costs for all kind of equipment, such as tools, AV equipment, IT devices, laboratory equipment, personal protective equipment etc.
Improved equipment life cycle management
Equipment life cycle management aims to increase the equipment life cycle and improve the return on equipment investment. Companies that manage their equipment life cycle act more sustainably and can cut costs. Longer life cycle means that companies don't need to invest in new equipment as often. Consequently, they spend less money and decrease their negative environmental impact.
The foundation of equipment life cycle management is the digital twin. By creating a digital twin for all your valuable assets, you have a comprehensive view over your equipment and its life cycle status on a single item level.
The digital twin improves your equipment life cycle management by providing you with:
Reliable item-based data
Possibility to track maintenances and defects
Possibility to analyse the equipment on a single-item level
Possibility to make better investment decisions
Improved control over your equipment and its status
Related reading: Mean Time Between Failures (MTBF) in equipment management
What does a digital twin look like?
Let's take a look at an example of a simple digital twin. As you can see, the view combines the asset's lifecycle information in one convenient view.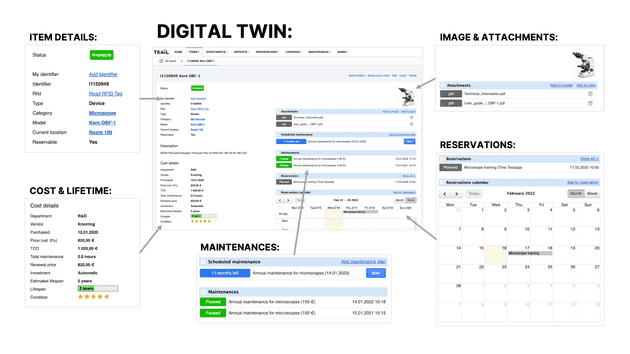 The view gives you information about:
The item details
Item costs
Remaining lifespan
Upcoming maintenances and maintenance history
Images and attachments, such as maintenance manuals or CAD-images
Reservations and reservation history
The item is also tagged with a QR code, RFID tag or an NFC tag. This tag links the physical item with its digital twin. By scanning the tag with a mobile device, users can log actions, such as defect reports and executed maintenances.
How to create a digital twin for your equipment?
If your equipment does not have a digital twin yet, don't worry. You can get started very easily.
Equipment management system Trail creates digital twins for all the assets that are added in it. You can add the basic information about your equipment to Trail easily with an excel import sheet.
Trail provides you with equipment labels that you can use to link the asset with its digital twin. When the equipment is labelled, Trail starts to log the asset data automatically based on the actions performed on the equipment.
Summary
Digital twin has traditionally been used to manage complex assets, such as factories, wind turbines, and cargo ships. Lately, also smaller and simpler items have gotten digital twins. This has helped companies to better manage their equipment life cycle and increase the control over all of their assets, regardless of its size and complexity.
Modern equipment management solution is an easy way to create and maintain a digital twin for any kind of asset. Regardless of what kind of items you have, you can create digital twins for them easily with Trai Equipment Management.
Download a free whitepaper: What is equipment management