28.09.2021
Six Most Common Methods of Equipment Management
Try to make a mental list of all your company's equipment. It's not such an easy task, is it? For this reason, equipment management has begun to attract increasing attention in companies of all sizes in recent years. In addition, accountability requirements and widespread life cycle thinking have also increased the need for sustainable management of company equipment.
In this blog post, I present the six most common methods of equipment management:
Employee memory
Excel spreadsheets
Computerized Maintenance Management System (CMMS)
Equipment rental and reservation systems
Equipment management system
Enterprise Resource Planning system (ERP)
Download the "What is equipment management?" guide
Employee memory
Many people carry out equipment management without even realizing. If you were able to make a mental list of your company's equipment, as I suggested at the beginning of this blog post, you're already off to a good start.
In small companies, the mere memory of employees may be enough to manage fixed assets. If the team only has a few laptops or cars and a handful of tools, there is no need to keep a list of them. All you need to do is ask your colleague if you don't know the whereabouts of some equipment.
However, it is a good idea to establish rules for shared equipment, such as reservation rules. For reservations, an electronic calendar or even a reservation sheet in the office can be very useful. The most important thing is to make sure that everyone knows who will be using the equipment at any given time, so that you don't waste working hours on locating equipment.
Excel spreadsheets
However, employee memory has its limits. As the amount of equipment and related activities such as maintenance and reservations increases, memory alone can no longer be relied upon.
An Excel spreadsheet is a good first step in managing a slightly larger amount of equipment. Excel, most likely, is a software that your company already uses anyway, so there is no extra cost. In addition, it is customizable to your own needs and eliminates the need to remember details.
In an Excel table, you can create inventory and equipment lists, add basic equipment information such as purchase times and serial numbers, and maintain this information. You can also keep track of your latest maintenance actions and reservations.
Unfortunately, Excel is not omnipotent. Its biggest shortcomings are rigidity and lack of automation. It requires a lot of manual work, which leads to data and equipment information often not being updated. Excel also does not send reminders of future actions such as maintenance. As the amount of equipment and/or number of personnel increases, there is a need for a more flexible system.
Computerized Maintenance Management System (CMMS)
I'm sure some of your equipment is business-critical and needs to operate continuously, and you have probably found some solutions for the maintenance of this equipment. If there is a lot of such equipment, a maintenance system is necessary.
A Computerized Maintenance Management System (CMMS) helps to ensure proper maintenance. The system usually provides tools for managing fault reports and recurring maintenance plans. In addition, the system sends reminders to those in charge to ensure that maintenance is carried out and that the equipment remains operational for as much of its life cycle as possible.
When comparing maintenance systems, you should also pay attention to mobile usability. Most of the maintenance is carried out on-site, making a smartphone or tablet a much more convenient tool than a laptop.
However, equipment management is a process of managing equipment life cycles that goes beyond mere maintenance. It's worth keeping in mind that a maintenance system rarely provides opportunities to keep inventories up-to-date, track equipment reservations, make investment plans, or tag equipment with physical identifiers tailored to your business.
Equipment rental and reservation systems
In many organizations, equipment is reserved within the organization or rented by customers. Good examples of this are, for example, performing arts institutions, educational institutions, or equipment rental companies. However, many other sectors have shared equipment, and there is a need for smooth reservation practices.
There are many different types of software available, especially for equipment rentals. They help track and plan equipment rentals, ensure sufficiency in equipment, give quotes and track sales. Many systems also include functionalities for adding personnel and other services as part of the rentals.
However, software for reserving and renting equipment is often lacking in tools for equipment life cycle management. Just as a maintenance system does not provide tools for reservations, rental or reservation systems do not provide the possibility of managing equipment maintenance. Therefore, they are often able to address only a well-defined part of a company's equipment management needs.
Equipment management system
An equipment management system or equipment management software is a tool for managing the entire life cycle of equipment. Its purpose is to make equipment information easily accessible to all relevant persons and to increase the efficiency of equipment-related actions. When a company has a large amount of equipment and/or number of personnel, there is a need to manage equipment-related information and activities through one system. In this way, the information is available to all relevant persons, regardless of time and place.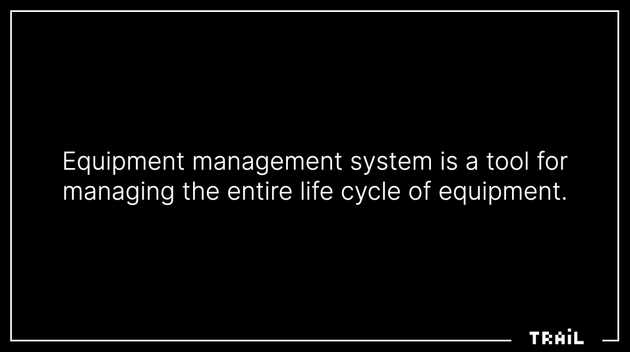 The advantage of an equipment management system compared to the other solutions I presented above is its versatility. A powerful equipment management system provides all the necessary functionalities in one easy-to-use package.
When choosing an equipment management system, you should make sure it provides all the necessary functionalities. In addition, it should be customizable so that you only have the tools that your business actually needs. The main functionalities of an equipment management system are:
Asset register
Maintenance and fault report management with notifications
Management of equipment reservations and rentals
Inventories
Equipment tagging with QR codes, RFID or NFC tags
Mobile use
Planning of equipment procurement and investments
In addition, you should make sure that the license model for the system is appropriate for your business. For example, pricing based on the number of devices is a scalable pricing model that makes for an inexpensive start in equipment management.
Enterprise Resource Planning System (ERP)
Especially in larger companies, an Enterprise Resource Planning System (ERP) — as the name implies — controls all operations. Often, the company's equipment, especially business-critical equipment, is also controlled in one way or another through the ERP system.
The advantage of ERP systems is precisely their versatility. They provide tools for broader operations management beyond mere equipment management and are an indispensable element in a company's operations.
However, if you look at it from a purely equipment management perspective, ERP systems are often quite cumbersome. Their use requires familiarity, i.e., personnel must be trained to use them. In addition, licenses for ERP systems are usually expensive, which means that adding users to the system can come at a high price. This in turn limits the transparency of equipment information in the organization.
In practice, it is wise to integrate the equipment management system and the ERP system. In this case, the life cycle management of the equipment, including maintenance, inventory, reservations, etc., takes place in an easy-to-use equipment management system, from which the necessary information can be automatically transferred across interfaces to the ERP system. At the same time, the equipment management system provides access to the equipment information to all relevant individuals, and no expensive ERP licenses or ERP training is required.
Summary
There is an equipment management process in companies of all sizes and ages — whether it is conscious or unconscious. The need for accountability is constantly growing and life cycle thinking is being extended to all company operations. This also emphasizes the role of equipment life cycle management. For this reason, interest in various equipment management solutions has grown in recent years.
The key is to choose the most suitable method for your company. Which of the methods presented here would be the best fit for your company?
If you wish to discuss equipment management and, for example, learn more about best practices, get in touch!